Pink Floyd vom Rauhen Holz - "Phil"

Mon p'tit Philou, on retiendra de toi ta gentillesse légendaire, ta personnalité exceptionnelle et ta joie de vivre permanente, un chien toujours souriant, et même si tu as été malade les 6 derniers mois de ta vie, tu t'es battu chaque jour, car tu l'aimais ta vie, tu l'aimais vraiment …
Hélas, aujourd'hui, la maladie t'a rattrapé …
Tu nous manques déjà Phil, et jamais nous ne t'oublierons …
Au revoir Philou !!!
Merci à Doris pour ce chien extraordinaire !
*********************
My little Philou, we'll never forget your extreme kindness, your exceptional personnality and your permanent love of life. You were always smiling and, even if you were touched by illness the last 6 months of your life, you fighted every day, because you loved your life, you really loved life ...
Unfortunately, today the illness caught you up.
We already miss you Phil, and we will never forget you ...
Goodbye Philou !!!
And thanks to Doris for that extraordinary dog !

Mâle bleu rouan née le 09/10/1996 - Blue roan male born on 09/10/1996
Testé sain (ADN Optigen A1) pour l'APR - Test oculaire annuel OK - Testé sain (ADN) pour la Néphropathie Familiale
Optigen A1 - Annual eye test clear - FN clear (DNA test)
Jeune Champion du Luxembourg / Luxembourg Junior Winner
Eleveur / Breeder : Doris Junge, "vom Rauhen Holz" (D)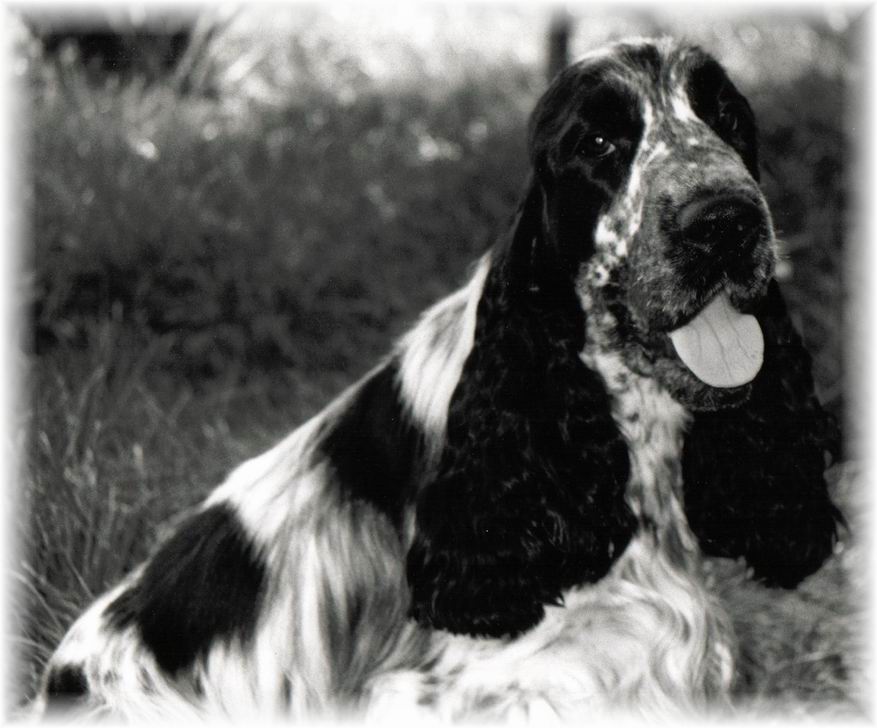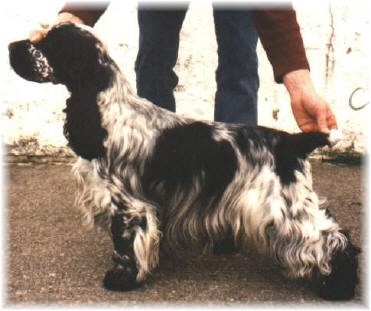 Phil est disponible pour saillies sur des chiennes de qualité et ayant les tests de santé. Pour plus d'infos, envoyez-nous un email. Il produit de magnifiques chiots, avec une excellente ossature et construction, et un caractère très équilibré. Il n'a à ce jour donné aucune tare héréditaire à sa progéniture. Il est porteur de noir & blanc, orange & blanc (+ rouanné) et marron & blanc (+ rouanné). Malgré son âge, il a obtenu l'autorisation de continuer à reproduire en Belgique (et à l'étranger, bien sûr).
Phil is available at stud for health screened quality bitches. For more information, send us an email. He gives beautiful puppies, with excellent bones and construction, and very balanced temperaments. Till now, he never produced any hereditary disease. He's carrier of : black & white, orange & white (+ roan), liver & white (+ roan). In spite of his age, he got the authorization to continue to be used for breeding in Belgium (and abroad too, of course).

Pedigree
| | | |
| --- | --- | --- |
| | | Bleu Rouan / Blue Roan |
| | | |
| | | Noir et blanc / Black and White |
| | | |
| | | Orange roan |
| | | |
| | | Couleur inconnue / Unknown colour |
Booker vom Rauhen Holz - HD B

Dt & VDH Ch Ramiro vom Rauhen Holz - HD C

Craigleith Fieldfare - HD A

Craighleith Crooner

Annie of Craighleith

Dt & VDH Ch Hella vom Rauhen Holz - HD B

Cliff vom Rauhen Holz - HD B
Britta vom Riesegenbirge - HD A

Ilonka vom Rauhen Holz - HD A

VDH Ch Chart Topper at Classicway - HD C

Normanview Midnight Runner of Classicway

GB SH CH Chrisolin Moonlight Magic of Classicway

Frauke von der Pussta

Grischan vom Harlekin

Julchen von der Pussta

Petite Fleur vom Rauhen Holz

Am, Dt, Pol, Dk Ch Lynann's Little Boy Blue
Am Ch Glenwood's Sierra Echo (blue roan and tan)

Aberglen's Front Runner

CH Wyncastle's Silver Stardust

Lynann's Silver Slipper
Am Ch Lynann's Never Ending Story
Am Ch Wyncastles Cinderella
Dt Ch Wild Violette vom Rauhen Holz - HD B
Sp Ch Allspice's Salt and Pepper
Am Ch Ballyweel's Blue Chip
Am Ch Carry On Amber Dianthus
Nancy vom Rauhen Holz - HD A
VDH Ch Which Wonder Welf vom Fasanenhang - HD A
Ilonka vom Rauhen Holz - HD A
Pedigree avec des photos / Pedigree with photos
Booker vom Rauhen Holz - HD B

Dt & VDH Ch Ramiro vom Rauhen Holz - HD C

Craigleith Fieldfare - HD A

Craighleith Crooner

Annie of Craighleith

Dt & VDH Ch Hella vom Rauhen Holz - HD B

Cliff vom Rauhen Holz - HD B

Britta vom Riesengebirge - HD A

Ilonka vom Rauhen Holz - HD A

VDH Ch Chart Topper at Classicway - HD C

Normanview Midnight Runner of Classicway

GB SH CH Chrisolin Moonlight Magic of Classicway

Frauke von der Pussta

Grischan vom Harlekin

Julchen von der Pussta

Petite Fleur vom Rauhen Holz

Am, Dt, Pol, Dk Ch Lynann's Little Boy Blue

Am Ch Glenwood's Sierra Echo (blue roan and tan)

Aberglen's Front Runner

CH Wyncastle's Silver Stardust

Lynann's Silver Slipper

Am Ch Lynann's Never Ending Story

Am Ch Wyncastles Cinderella

Dt Ch Wild Violette vom Rauhen Holz - HD B

Sp Ch Allspice's Salt and Pepper

Am Ch Ballyweel's Blue Chip

Am Ch Carry On Amber Dianthus

Nancy vom Rauhen Holz - HD A

VDH Ch Which Wonder Welf vom Fasanenhang - HD A

Ilonka vom Rauhen Holz - HD A

Résultats d'expo / Show results
Date
Lieu - Place
Juge - Judge
Résultat - Result
03/05/1997
Dortmund (D) - CACIB
Mr Horst Kliebenstein (D)
Very Promising - Très Prometteur
11/05/1997
Brussels (B) - CACIB
Mrs Stéphan (F)
Very Promising - Très Prometteur - Best Of Breed Puppy - Brussels Puppy Trophy
29/06/1997
Dortmund (D) - CAC
Mrs Englaender (A)
Very Promising - Très Prometteur
20/07/1997
Liège (B) - CACIB
1st Excellent
27/07/1997
Oelegem (B) - CAC
Mrs P Williams (UK)
4th Very Good - 4ème Très Bon
17/08/1997
Köln (D) - CAC
Mrs Barbara Müller (CH)
1st Excellent - Young VDH CAC
07/09/1997
Luxembourg - CACIB
Mr Simpson (UK)
1st Excellent - Young Luxembourg Champion - Champion des Jeunes
19/10/1997
Dortmund (D) - CACIB
Mrs Kobe (D)
4th Excellent
30/11/1997
Iserlohn (D) - CAC
4th Excellent
04/04/1998
Francfort (D) - CACIB
2nd Excellent
18/04/1998
Nürnberg (D) - CACIB
3rd Excellent
23/05/1998
Brussels (B) - CACIB
Mr Frank Kane (UK)
2nd Excellent
31/05/1998
Sarrebrück (D) - CACIB
Mrs Sonja Junge (D)
1st Excellent - VDH CAC - Club CAC - Best Male - Meilleur Mâle - Best Of Breed - Meilleur de Race
28/06/1998
Ingolstadt (D) - CACIB
Mrs Barbara Müller (CH)
3rd Excellent
24/07/1998
Liège (B) - CACIB
Mr Fortemps (B)
1st Excellent
Oldenburg (D) - CAC
Mr Robin Sadler (UK)
3rd Excellent
15/08/1998
Maastricht (NL) - CACIB
1st Excellent - CACIB Reserve
22/08/1998
Mechelen (B) - CACIB
Mrs Hilda Parkinson (UK)
3rd Excellent
26/09/1998
Luxembourg - CACIB
Mrs Järmer (A)
4th Excellent
17/10/1998
Dortmund (D) - CACIB
Mr Jens Martin Hansen (DK)
4th Excellent
09/05/1999
Mönchengladbach (D) - CAC
Mr Bruno Richter (D)
1st Excellent - VDH CAC - Club CAC
24/10/1998
Utrecht (NL) - CACIB
4th Excellent
18/07/1999
Liège (B) - CACIB
Mrs Barbara Müller (CH)
4th Excellent
25/03/2000
Luxembourg - CACIB
Mrs Delvaux (B)
Très Bon
14/05/2000
Krefeld (D) - CAC
Mr Beyersdorf (D)
Excellent
22/07/2000
Liège (B) - CACIB
Mr Van Bael (B)
1st Excellent - CAC - CACIB - Best Of Breed - Meilleur de Race
06/08/2000
Köln (D) - CAC
Mr Bruno Richter (D)
2nd Excellent - VDH CAC Reserve
03/12/2000
Iserlohn (D) - CAC
Mrs Henny Kappetijn (D)
4th Excellent

Photos & Videos

© Domaine d'Haïsha English Cocker Spaniel